Terms & Conditions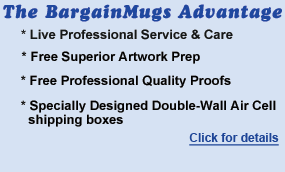 We encourage you to read these terms before placing your order. By submitting an order to Bargainmugs.com, you agree to the terms and conditions set forth below.
Before Printing - See What Your Artwork Will Look Like
Rest assured we do not print your artwork until you see a virtual proof which we will automatically send to you before your order is printed. This proof enables you to view the exact imprint and make any necessary changes. Should you need to make such changes we will provide you with one more free proof. To help eliminate errors, we will not begin printing on your item before you have approved the proof.
Confirmation
Upon placing your order you will receive an email confirmation. Within approximately 48 hours you will receive an email proof clearly showing the imprint on the specific item ordered. Please go over this proof very carefully to ensure that the imprint is correct. Once you have approved the proof we cannot be held liable for any errors in the imprint.
Online Order Credit card charge
Please press the 'SUBMIT' button only once, if you press it multiple times your credit card may be charged multiple times. In such event please contact our customer service. Once we have verified that a duplicate charge has occurred we will refund the charge promptly.
Artwork and Guidelines for submitting artwork
Please submit all information for your imprint instructions at time of order placement. You can choose to upload your art files and submit your art instructions along with your order or you can email us your art files and instructions to art@bargainmugs.com. Remember that which ever method you choose we will email a proof for approval before we begin production.
We strongly suggest that when uploading your own art files that they are "camera ready" high resolution files. As to provide the best quality imprint, an absolute minimum of 300 dpi at 100% size is needed but 600 dpi is preferred. An additional charge may be added to your order depending on the time needed to make your artwork 'printready'. Our customer service will contact you prior to incurring such charge. Note that the added work involved in cleaning up any artwork will also add to production time.
Accepted Formats
An editable version of all files including linked and placed images must be submitted. Convert all fonts to outlines or include all screen and printer fonts. Compressed files must be self-extracting, although compression is not recommended. Please send digital files no less than 300 dpi at 100%, higher resolution is strongly recommend for a better imprint.
Adobe Illustrator (.ai)
Adobe Photoshop (.psd)
EPS (.eps)
Adobe PDF (.pdf)
TIFF (.tif) - at least 300 dpi
JPG (.jpg) - at least 300 dpi

Customers will assume complete responsibility to obtain permission for reproduction of logos, patents, trademarks and copyrights. By agreeing to print any submitted artwork, Bargainmugs.com will not be held liable under any circumstances
Proofing
You will receive a free emailed Proof. This proof enables you to view the exact imprint and make any necessary changes. Should you make such changes we will provide one more free proof. Additional proofs and art prep work after the second proof is billed at $15.00 per proof and $40.00 per hour for artwork clean-up. Colors shown may not accurately depict the finished product, this is due to different calibrations of each individual computer screen and/or printer. All of our products have imprint area information listed under the "Product Description" tab, please note that the measurement listed for wrap on products without a handle is not equal to the circumference of the item. The proof must be approved by you before production begins.
Color Matching
Pantone colors are established for printing on paper and used as a reference only. Due to the nature of ceramic ink, a 100% match cannot be guaranteed. Color matches may vary from previously accepted pre-production samples, speculative samples, color samples or order runs. Some purple colors can have a slight translucent look when printed on glassware.
Normal Production Time
The estimated normal production time is 5-7 business days after receipt of order. This timeline is also dependent upon the size of the order and/or the complexity of the artwork or process employed. If you have a specific "in-hands" date, please ensure that there is adequate time before you opt for a normal production timeline. Please remember that delivery time is the total of both proofing time, production time and shipping time.
Normal Production Time - Photo/Picture Mugs
The process for producing Photo/Picture Mugs differ from regular printing. Every order starts with a physical proof of the mug being sent to you. Upon your approval of this sample we will proceed and produce the entire order. This sample is required but shipped at no additional cost to you beyond the screen and set-up charge. The estimated normal production time is 5-7 business days after electronic proof approval for the sample (plus shipping time) Full order production time is 9-12 days after approval of sample (plus shipping time). This timeline is also dependent upon the size of the order. If you have a specific "in-hands" date, please ensure that there is adequate time before you opt for a normal production timeline. Please remember that delivery time is the total of both proofing time, production time and shipping time.
Shipping
F.O.B. Shipping Point factory Under the terms of "FOB shipping point," title of the goods passes to the buyer at the shipping point. If the order is being shipped via UPS, you will receive an email from UPS with tracking number and delivery information.
Certain addresses are not serviced by UPS (such as APO and PO boxes), in case you enter an address that UPS does not service we will contact you for alternative shipping methods and additional charges may be added to your order.
Once the order has left the warehouse, BargainMugs.com cannot accept responsibility for any delays caused by the shipping company. If shipping is delayed on an "expedited" shipping order, ONLY THAT PORTION OF THE SHIPPING CHARGES WILL BE CREDITED BACK BY UPS. BargainMugs.com will not be held responsible either in the event the customer is not available for delivery or the customer refuses delivery.
Certain large orders are best serviced by shipping them via a LTL truck carrier. In such an event we will contact you to discuss the best possible shipping method. This type of delivery may incur additional charges.
For products offered with free shipping the free shipping only applies to standard ground delivery within the continental USA. Any request or need for upgrading to expedited shipping will incur regular shipping charges.
Shipping Breakage
Although great precautions are taken during the packaging of each order, breakage does sometimes occur during the shipping process. In the rare event that you do receive your order with breakage please contact our customer service immediately. Will promptly credit your account for that portion. Please do note that we will require adequate proof for any damage or breakage reported.
Important notice for our International Customers - Including Canada
For orders shipping outside the U.S. - INCLUDING CANADA - local duties and/or taxes may be assessed upon delivery. These fees are not charged by BargainMugs.com during checkout; therefore please consult your local customs office to determine these charges. We are not responsible for these duties and/or taxes. Note that delivery dates outside of the U.S. are essentially "estimates", and in no event will BargainMugs.com be liable for any consequential damages arising from delays in delivery.
Prior to shipping merchandise internationally we will contact you for approval of shipping charges.
Handling Recommendations
All glassware, ceramic and porcelain are Kiln-fired at up to 1200°F. The imprints are long-lasting and safe with reasonable home or office use. Please avoid the use of commercial detergents and abrasive cleaners which can damage any imprint. All plastic and sportbottles should only be handwashed. Products are not intended for use in restaurant environments.
Color Registration
Where 2 or more colors are close together there is the possibility of misregistration of approx. 1/32" of each color in any direction.
Ceramic, Porcelain and Glassware
All mugs are finished by hand and the color shade and glaze (including the inside glaze color) may vary within the same order or from previously accepted random sample, order run, pre-production sample or speculative sample. Slight imperfections, minor indentations (pinholes and/or dark dots), unevenness in the glaze and variations in height and diameter must be accepted and are within the industry standard. All our Glassware comes from the world leaders in glass manufacturing, yet small imperfections such as small air bubbles or settle lines can occur in glassware as a result from liquid glass flow. Capacities listed for ware, are approximate and may vary from lot to lot or within the same order. Per industry standards capacities are measured to point of overflow. Some glassware styles have seams as a result of the manufacturing process. Any of these imperfections are within industry standards and not considered defects or seconds.
Claims and Redos
Please check your order immediately upon receipt. All claims must be reported within 7 calendar days upon receipt of goods. All claims will be confirmed via email. We may request pictures to be emailed or an actual sample made available for our inspection. Once we have evaluated the claim we will promptly credit or replace the product if mandated. We will not change the product, the logo or artwork or the imprint color when processing the redo.
Repeat Orders
When placing an order for the exact same item with the exact same imprint, the following discounts apply:
We offer a 50% off screen/setup cost for each imprint color. So for a one color job your reorder discount will be $25.00 and for a 2 color imprint the reorder discount will be $50. This discount will be applied to your order as long as you let us know it's an exact reorder.
Please place the order through the shopping cart and write "Exact repeat order" along with the previous order number in the special instruction field and we will refund the setup discount to your credit card.
Cancellation Policy
After Proof Creation - $25.00 + 2.20% Credit Card fees
After Screen - $25.00 + screen charges and 2.20% Credit Card fees
After the order reaches the production floor, the order cannot be cancelled.
Return & Refund Policy
In line with industry standards, personalized merchandise is not returnable or refundable. Blank merchandise cannot be returned or refunded. To make sure blank merchandise suits your needs please order a sample beforehand. Closeout products are reduced for final clearance and orders placed for such products can not be cancelled. Rest assured that before the order is sent to production it is subject to the same proofing procedure as regular priced products.
Limitation of Liability
In all circumstances, BargainMugs.com maximum liability is limited to the purchase price of the products sold. BargainMugs.com will not, under any circumstance, be held liable for any claim or action that exceeds this liability limit. BargainMugs.com will not be liable for any third party claims for damages against the customer, nor for malfunction of product, cause of delays, interruption of service, or loss of business.
Shipments to California
According to law Proposition 65, all items sold to California must carry a warning label. The State of California requires that no person in the course of doing business shall knowingly and intentionally expose any individual to a chemical known to the State of California to cause cancer or reproductive toxicity without first giving a clear and reasonable warning. Accordingly, if Buyer fails to provide BargainMugs.com advance written notice that BargainMugs.com product will be shipped to the State of California, Buyer hereby indemnifies and agrees to defend and hold harmless BargainMugs.com from and against any and all Proposition 65, personal injury and property damage claims, and from all other costs, liabilities, damages and expenses (including, without limitation, attorneys fees and litigation expenses on account thereof or in connection with any investigation or preparation related thereto or the enforcement of this provision) relating to, resulting from, connected with or arising out of goods or products provided to buyer by BargainMugs.com, to the maximum extent permitted by law. Please note that all orders placed with or received from BargainMugs.com shall be deemed effective acceptance of these terms.
Credit card charge
For orders in excess of $5000.00 please call factory for approval
Payment and terms
Payment in full is due prior to producing your order.