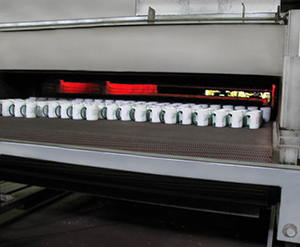 Only kiln or lehr fired imprints won't peel or scratch off.
At BargainMugs, we use only the highest quality ceramic inks, also known as enamels. We fire your order at temperatures of up to 1200° F. All inks are within strict FDA guidelines and the best in the industry. This process ensures that your imprint is the most durable in the industry, and will remain a permanent part of your glassware or mugs for a lifetime. Because fired inks become a part of the finish, your imprint will not peel, flake or scratch off the way pieces that are not fired can.
How is Your Order Printed?
Beware that some printers cut corners when printing your mugs and glasses. They have chosen to replace beautiful strong ceramic inks with cheap epoxy or UV inks.
These inks are "dried" under UV light in a method that saves money but gives you - the customer - an absolutely inferior product!
Your imprint is not dishwasher safe, over time they will break down, fade and can be scraped off with a nail clipper or even your finger nail - A true recipe for disaster!
Order a sample - put it to the test - and see for yourself!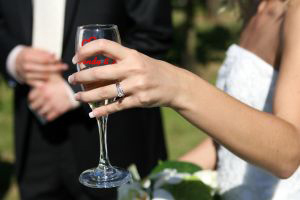 Quality printing helps make your memories last a lifetime.
If you have custom printed glassware or mugs for that special event, don't you want your image to be one that is guaranteed to last a lifetime? Imagine putting those cherished mugs that you had printed for your baby shower into the dishwasher, and finding that the ink has peeled off from the heat. This will never happen with mugs printed at BargainMugs. Our inks are dishwasher safe. Your event is special enough to order custom printed, so make sure that you and your friends and family get the superior quality long lasting printed glassware that you deserve!