For those of you with a creative or artistic bent, painting your own designs on our ceramic mugs makes for a thoughtful and unique personalized gift. You can also save money by painting your own mugs as blank mugs cost less than printed mugs **
One of our customers, Karen Pack, bought one of our Bakersfield customized mugs blank to give as favors for her daughter's baby shower: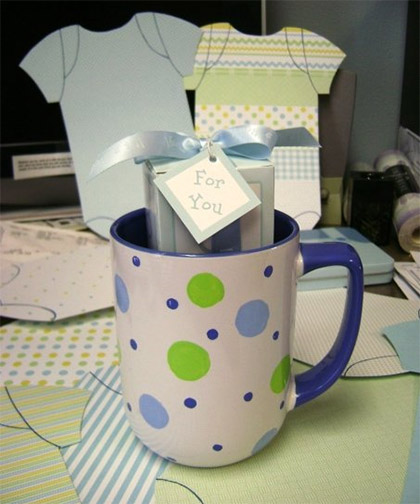 Getting Started
You will want to use a durable glossy paint that is washing and dishwasher safe, so you should use dishwasher safe enamel paints, which are widely available in art and crafts stores.
Painting Your Ceramic Mugs
Wash the mugs before painting with soap and water to remove any dust or dirt that can hinder the paint from sticking to the ceramic surface. Dry them completely.
Paint your design on the ceramic mugs. Make sure to use permanent enamel paint designed specifically for ceramics.
Let the paint dry completely. You can buy enamel paints that cure by air drying and don't need to be fired. Different paints may have different curing times; check the manufacturer instructions for your particular brand of paint.
Enjoy your beautiful personalized mugs for party favors and gifts!
Enamel paints can also be used on our promotional glassware, for further instructions click here
** All items excluding Libbey glassware can be purchased blank, just click on the "Buy Blank" tab in the green bar on the right on any product page.