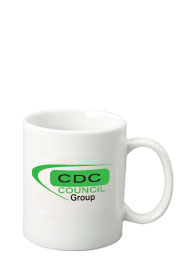 11 oz white stoneware coffee cup
item no. 10323
as low as $1.01 each
11 oz Stoneware Coffee Mugs. The stoneware coffee mug is the standard, cheaply priced, promotional coffee mug. This white coffee cup is always on sale! It is the choice mug for any successful promotion. It fits nicely into any kitchen decor or office. When you put your logo on mugs and use those mugs as party favors, they will constantly remind your guests of your event. These popular mugs have been used repeatedly as wedding favors, corporate giveaways and party favors as well as many other occasions.